EA Sports presents MEGATHON'18 in association with Joveo
Idea to Business
Problem statements are out now!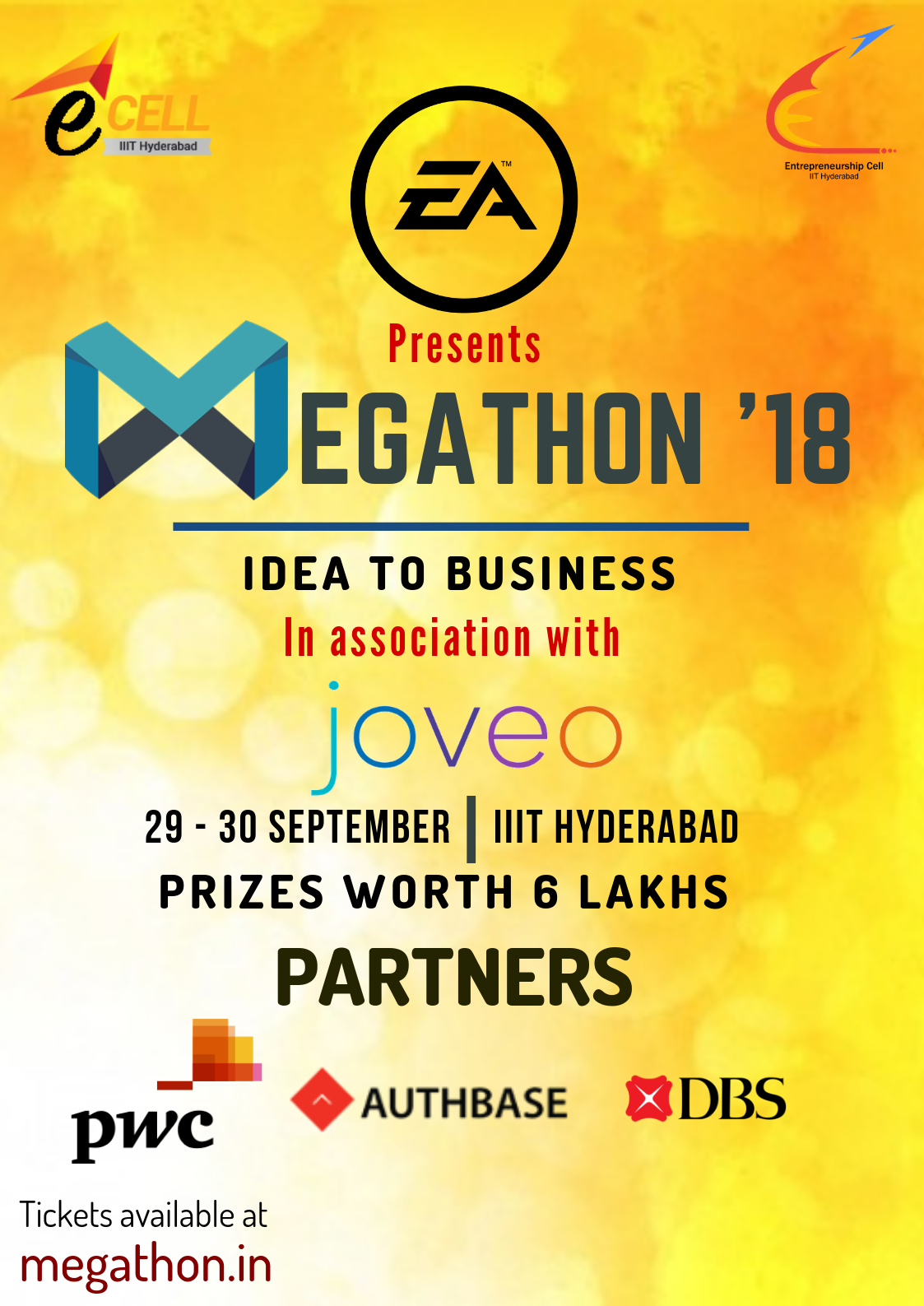 E-Cell IIIT-Hyderabad and E-Cell IIT-Hyderabad bring back the 3rd edition of Megathon, the largest student Hackathon in Hyderabad on 29th and 30th September, 2018 at IIIT Hyderabad. Get expert guidance from experts of the field and become part of a plethora of fellow thinkers and coders and solve problems affecting the corporate world deeply.
The highly anticipated event is a rigorous 24-hour contest, from 5 pm on 29th to 5pm on 30th September at IIIT Hyderabad. It requires participants to use every grey cell in their brain in an effort to solve 1 of 4 corporate challenges in teams of 1-4 provided by our Challenge Sponsors- EA Sports, Joveo and PwC, through the use of technology with a touch of entrepreneurship. Pitch your idea to the judges and take home prizes worth 6 lakhs.


Problem Statements will be released by the evening of Friday, 21st September.
SPONSORS
Title Sponsor- EA Sports
Associate Title Sponsor- Joveo
Challenge Sponsors- EA Sports, Joveo and PwC
PRIZES
Winning teams get to pitch their business idea at the Business Hack in front of VCs, corporates and top academia to convert their ideas into services/products with a feasible revenue model. Top ideas also have a chance of getting internships.
For each problem statement, the prizes are-
1st- Rs. 40,000
2nd- Rs. 20,000
Special prizes for 3 other teams
Also every participant gets an exclusive Megathon'18 T-Shirt and other goodies.
Intrigued? Check these articles about the previous editions of Megathon:
- Inc42: https://inc42.com/event/megathon-2017/
- stuMagz: https://www.stumagz.com/megathon-2017
- The Hindu Business Line: https://www.thehindubusinessline.com/info-tech/megathon-2017-to-be-held-in-gachibowli-on-sept-23-amp-24/article9864924.ece
- misfits.io: https://misfits.io/hackathon-megathon/
- India Education Diary: http://indiaeducationdiary.in/largest-student-hackathon-hyderabad-megathon-2017-announces-winners/
Also get a gist of the previous years of Megathon here:
2017: https://www.youtube.com/watch?v=KuaNsJj31Qw