Are you looking to do something really really exciting this weekend? Wishing for a getaway into the wilderness, far from the hustle-bustle of the city?
The answer to all this is very near. Yes a 2 Hour Drive. More than 100 Campers in the last month who have camped very strongly reccomend us, including founders, to Army officers to young folks who camped. [ Check for more Pics & Recos at our FB PAGE ]
Winter Grass is an overnight camping experience at Anantagiri Hills, Vikarabad.
Lush green with oxygen in abundance as nature becomes your new indulgence. A day of fun-filled and thrilling activities and a night of counting the endless stars from your tent. Wake up with the birds chirping and the glowing sun's rays to another beautiful day. All this, as you breathe in air that rejuvenates and refreshes, you and your soul through your rendezvous with nature.
Whether it's your first time or one of the many times, an exciting camping experience awaits you, not far from Hyderabad, at Anantagiri Hills, Vikarabad. Just a 2-hour drive from the city and be assured for an unforgettable experience where we can set up our camps, for you!
All you need to bring is your high spirits and a good pair of walking shoes. Of course, anything else that you don't wish to share with the others! So get ready and get into your vehicle for a breezy drive of 2 hours from the city. (feel free to reach us out for transportation options)
Schedule:
Saturday 04:00 PM:
Arrive at Camp Winter Grass as our team waits to welcome you.
Welcome drink & Snacks and we run the Camp special : The evening trek to the hill.
Tea/Snacks post trek with Bonfire & Dinner on Saturday.
Sunday we rise to an Early Morning Sunrise Trek & Breakfast followed by Kayaking.
Of course you get to Sleep in tents. We do provide blankets and pillows.
Sunday 11:00 AM - Depart from the Camp.
+/- 60 Mins here and there.
Contact us for any queries:
REDDY @ 99.666.58920
About Organizers: We have over 15 Years experience in Adventure and Camping. Successfully led expedition and Camping trips across Continents from the Himalayas to the Alps to The Appalachian Trail to Mt Fuji in Japan.
Click here to watch Winter Grass Camping area
FREQUENTLY ASKED QUESTIONS & CAMP CODE like What is included in the package, travel options, washrooms etc : [LINK]
PS: GIFT CODE: Like us at our FB PAGE & Send a message on FB for GIFT COUPOUN CODE.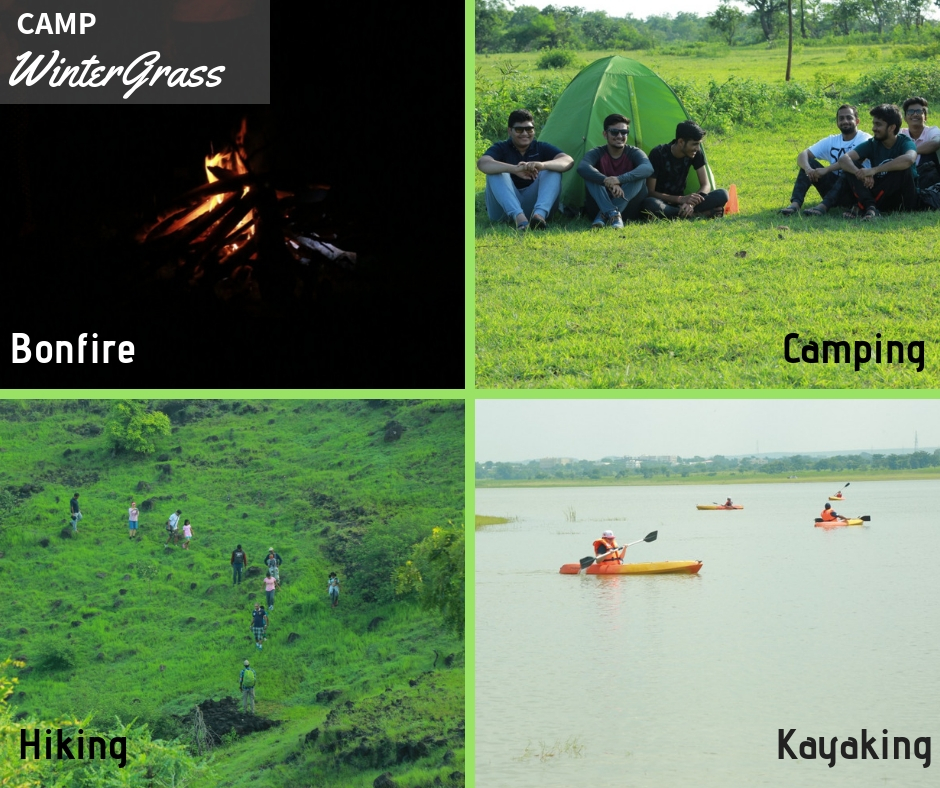 Perfect For
1) Couples
2) Families with children [Perfectly Safe for Infants as well: Yes we do have diapers :P]
3) College Students
4) Singles & Anyone with a tinge of Adventure
NOTE: All the engagement activities like campfire, hiking, kayaking is common. Incase you need a private campfire please do let us know.